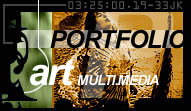 I have created 7 multi-media (nature sculptures and collage pieces) since 1993. This is an online portfolio of such work. For acquisition purchasers, galleries, curators, and exhibitors interested in my work, please contact me to arrange an appointment for your examination of the piece(s) in person or for purchase and shipment information. I have had 5 art exhibitions, including 4 temporary installations of my work.




"Nature Speaker"
1998



"Jesus On The Rocks"
1996




"The Tiger's Den"
1996



"Deja Vu"
1994




"Growth"
1997



"The Green Back Deer"
1995







©2019 Jason Kraley
All rights reserved.