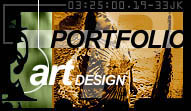 I have had the honor and pleasure of working with many establishments, event planners, and musicians who have requested (and/or commissioned) me to design flyers, advertisements, postcards, and event passes, as well as the greatest honor: album cover design and CD packaging layouts. For any industry-printable needs (including DVD authoring and DVD menu design, programming and functionality), please contact me for consultation.

Below are just a few examples of various forms of graphic design work I have done in this century. Click on any piece to enlarge.


Printed Materials

"Perceptions" Event Poster
(Version 1)


"Anything Goes" DJ Event Poster


"Booty Call" After-Party Event Ad



"Perceptions" Event Poster
(Version 2)


"Final Days" Art Exhibit Flyer


"Still Inertia" CD Release Postcard



Cafe Noir: "Poetry Night" Ad


"Acoustic Thursday" Promo Flyer


"So Long, Jason" DJ Event Postcard


Album Cover & Music Packaging Design

Roto Visage:
"gehirnwäschebund"



Still Inertia:
"From The Ancient Center"



Jason Kraley &
Mike Williams:
"Touched"


DVD Cover & Packaging Design

Philadelphia Museum of Art:
"Victoria Wyeth Tour of Andrew Wyeth - Memory & Magic"



The Bootlickers:
"Live 2006"



Still Inertia:
"Closer To Me"







©2019 Jason Kraley
All rights reserved.